LRE RESEARCH
> a web page dedicated to independent scientific research by LRE and CM - updated 25 nov 2016
LRE RESEARCH INDEX: LRE RESEARCH SCIENCE BLOG @ http://lreresearch.blogspot.com/ | EVIDENCE OF GLOBAL CLIMATE CHANGE A / B | STRANGE LINES OFF THE COAST OF LOS ANGELES | 150 YEARS AGO: THE WORST SOLAR STORM EVER | SETTING THE RECORD STRAIGHT | DOES ARTICIALLY INSPIRED ENERGETIC EMANATION RESULTING FROM NASA LUNAR ACTIVITIES AFFECT EARTH'S WEATHER PATTERNS THROUGH QUANTUM MECHANICAL ENERGY EXCHANGE? + DOES SEISMIC ACTIVITY REMOTELY FEED CYCLONIC ACTIVITY? + DOES UNDERGROUND NUCLEAR TESTING INSPIRE INCREASED SEISMIC ACTIVITY AND/OR REMOTELY FEED CYCLONIC ACTIVITY? + DOES LFAS SONAR REMOTELY INSPIRE INCREASED SEISMIC ACTIVITY AND/OR FEED CYCLONIC ACTIVITY? | > NEWS FLASH / 5 feb 2010: DID LFAS SONAR CAUSE THE JANUARY 2010 QUAKE IN HAITI? > 1 & 2 / LRE RESEARCH THEORETICAL BASE > IS THIS ATLANTIS? + LOST WORLDS + UNDERWATER CITIES + MARIE THARP + ICE AGES + PERHAPS + ONE GOD + THE MOON + UFOS etc
CHECK OUT THE NEW LRE RESEARCH SCIENCE BLOG @ http://lreresearch.blogspot.com/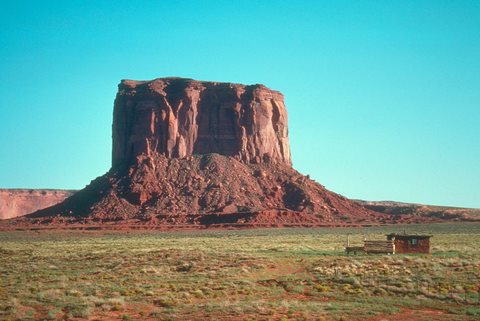 EVIDENCE OF GLOBAL CLIMATE CHANGE:
go to: http://likroper.com/LRERESEARCH99.html
+ http://likroper.com/CALIFORNIA1.html + X
SEE ALSO: HUGEFLOODS.COM
+ MONTANA'S CHANELLED SCABLANDS
http://hugefloods.com/Scablands.html
150 YEARS AGO: THE WORST SOLAR STORM EVER -- By Robert Roy Britt / Editorial Director of SPACE.COM -- posted: 02 September 2009 / 09:40 am ET > On Sept. 2, 1859, an incredible storm of charged particles sent by the sun slammed into Earth's atmosphere, overpowered it, and caused havoc on the ground. Telegraph wires, the high-tech stuff of the time, suddenly shorted out in the United States and Europe, igniting widespread fires. Colorful aurora, normally visible only in polar regions, were seen as far south as Cuba and Hawaii - Earth's magnetic field normally protects the surface of the planet from some storms. In 1859, the planet's defenses were totally overwhelmed. Over the past decade, similar but less powerful storms have likewise busted through, giving scientists insight into what will eventually happen again -- The outlook is not rosy -- The solar storm of 1859 was three times more powerful than the one that cut power to an entire Canadian province in 1989. Experts say if it happened today (and it could) the result might be unthinkable > READ MORE @ http://www.space.com/scienceastronomy/090902-1859-solar-storm.html -- SEE ALSO: http://www.spaceweather.com/
> 19 sep 2009 / LRE RESEARCH NOTE: i was at my favorite local pub recently when i saw someone who i have known for quite awhile, but who shall remain anonymous -- during conversation, this person admitted to working for the department of defense (DoD), and made comments alluding to similarities between LRE RESEARCH findings, and findings made by US government physicists; it seems at least a few government scientists have [among other things] noticed the connection between the december 2004 tsunami and the december 2004 gamma ray burst, but LRE RESEARCH missed the fact that the gamma ray burst blew a hole in the ozone layer, which has led us to our current state of accelerated global warming! > then last night at the pub right before mysteriously disappearing into the night; Dod gave me a piece of paper with information about the 1859 solar storm...
> involved in the latest cutting-edge Hubble telescopic research; DoD says many universes seem to be stacked one on top of another, much like slices of bread; and the 2004 tsunami stimulus on one planet [earth] in one universe 'slice', apparently caused a gamma ray burst in another! -- Dod believes there is an apparent 'end' to these universes as well > something i have trouble with, as time and space have no real measurable beginning or end; much like how elementary particles can be theoretically divided endlessly in half; continuously leaving something as opposed to nothing...
> 9 sep 2009 / ADDITIONAL DoD NOTES: at the beginning of our planet's existence, its' rotation was more stable, but after being struck by the yucatan peninsula asteroid approximately 65 million years ago; it has been destabilized ever since [unless affected by a gravitational force and/or impact; an unobstructed object can theoretically travel endlessly in one direction through space; but being struck by the yucatan asteroid has forever altered our planet's rotation and orbit -- before the impact, earths' orbit around the sun was arrow-straight -> but after, life forms were literally forced to become smaller due to the atmospheric changes caused by this impact and ensuing rotational fluxuations (less oxygen, ect)] -- the real point of this additional notes section is the upcoming celestial alignment occuring on december 21, 2012; a time when all the planet's in our solar system will align with our galaxys' plane -- now; we know that when the earth, sun and moon align (as they do twice every month @ the full and new moons) the earths' crust moves about 10 feet, and the tides rise roughly 30 feet; so what will happen in this particular 2012 alignment scenario? no one knows for sure, but i do know one thing; there will at very least likely be large random earthquakes due to the extreme electromagetic pull caused by this alignment; some even say an annual pole shift is due as well; and even when this is all past tense; there is still the possibility of an extreme solar flare event in 2013 > the fortune cookie reads: hope for the best ~ prepare for the worst...
> 22 aug 2010 / SETTING THE RECORD STRAIGHT: i have a friend who among other things; studies Hubble photos and supposedly works for the CIA - we have had many a spirited conversation regarding the universe, but we tend to disagree on one point; the end of the universe; he says you can literally see the end of the universe and/or matter in the hubble photos -- now; i understand most scientists tend to focus on matter, as matter truly does matter; but! the limitless open space which that matter is contained within HAS to go on forever; it cannot do anything else / question: if there is a wall; what is behind that wall? > LRE RESEARCH THEORY: was the BIG BANG actually a sympathetic action-reaction of sorts to an implosion elsewhere in the universe? in other words; there are likely many universes, as when most scientists refer to 'the universe', they are only referring to our particular BIG BANG, and/or our particular clump of universal matter -- perhaps there has likely been too many BIG BANGS to count; perhaps BIG BANGS are a relatively common universal event? > go to: HUBBLESITE.ORG @ http://hubblesite.org/gallery

When forced to summarize the general theory of relativity in one sentence:
Time and space and gravitation have no separate existence from matter;
Physical objects are not in space; but these objects are spatially extended - ALBERT EINSTEIN

DOES ARTICIALLY INSPIRED ENERGETIC EMANATION RESULTING FROM NASA LUNAR ACTIVITIES
AFFECT EARTH'S WEATHER PATTERNS THROUGH QUANTUM MECHANICAL ENERGY EXCHANGE?
1) NASA SLAMS TWO SPACECRAFT INTO THE MOON @ 6:15 AM EST FRIDAY 9 OCT 2009
2) AT 1200 UTC ON 9 OCT 2009 THE JOINT TYPHOON WARNING CENTER REPORTED TROPICAL DEPRESSION NEPARTEK LOCATED @ 20.0N 142.SE > TIME ZONE CONVERSION: NEW YORK (U.S.A. - New York) FRIDAY 9 OCT 2009 @ 6:15:00 AM UTC-4 hours EDT = UTC FRIDAY 9 OCT 2009 @ 10:15:00 > TIMEANDDATE.COM @ http://www.timeanddate.com/ > SEE ALSO: > NASA MOON BOMBING CREATES DEBATE + NASA MOON BOMB -- RAP NEWS > NOTE: hurricanes occurred after the landings of apollo 11,12 and 14 [hurricane camille, etc]; launched during the atlantic hurricane season stretching from 1 June to 30 November > except for apollo 15; all remaining apollo moon missions avoided launching during the atlantic hurricane season...
> LRE RESEARCH NOTE: 14 OCT 2009 / 'WHOLE FACE OF MOUNTAIN' FELL INTO VALLEY; resident says [weekend of 10-11 OCT 2009] @ http://www.cnn.com/2009/US/10/13/washington.landslide/index.html + TROPICAL DEPRESSION (TD) NEPARTEK MOVES ACROSS PACIFIC OCEAN TOWARDS CALIFORNIA, BRINGING UNUSUAL EARLY HEAVY RAINS > GO TO: http://www.mercurynews.com/california/ci_13550870?nclick_check=1 + BIGGEST OCTOBER STORM SINCE 1962 CLOSES ROADS, SCHOOLS etc @ http://www.santacruzsentinel.com/ci_13550816?source=most_emailed

> LRE RESEARCH NOTE: TWO SEPARATE LEVEL 5 HURRICANES OCCURRED IN THE ATLANTIC BASIN SHORTLY AFTER THE LANDINGS OF APOLLO 11 and 12; LAUNCHED DURING THE ATLANTIC HURRICANE SEASON THE LANDINGS OF APOLLO 14-16; 17 WERE SUBSEQUENTLY NOT SCHEDULED DURING HURRICANE SEASON 1 JUNE - 30 NOV; MEANING PERHAPS NASA WAS AWARE OF THE CAUSE AND EFFECT RELATIONSHIP BETWEEN MOON LANDINGS AND EARTH-BOUND STORM INTENSIFICATIONS [NOTE: WITH THE EXCEPTION OF THE LANDING OF APOLLO 15 ~ 30 JUL 1971 / Category 1 hurricane (SSHS) / Duration August 5-August 7 / Intensity 85 mph (140 km/h) (1-min) 974 mbar (hPa) + Tropical depression (SSHS) / Duration August 5-August 10 / Intensity 35 mph (55 km/h) (1-min), 1011 mbar (hPa) + Category 1 hurricane (SSHS) + Duration August 11-August 16 / Intensity 85 mph (140 km/h) (1-min), 977 mbar (hPa)]; IN THE EASTERN NORTH PACIFIC, THE OFFICIAL SEASON BEGINS MAY 15TH AND ENDS NOVEMBER 30TH - BOTH OFFICIAL SEASONS COVER MORE THAN 99% OF ALL TROPICAL CYCLONES IN ANY YEAR; PERHAPS THE RELATIVELY LOWER DENSITY MASS AND SUBSEQUENT WEAK GRAVITATIONAL PULL OF THE MOON TRANSLATES INTO ENERGETIC DISPLACEMENT FROM THE MOON TO THE DENSER MASS OF EARTH?
SOURCE: http://likroper.com/LRERESEARCH4.html + LRE RESEARCH NOTES
SEE ALSO:
HURRICANE RICK @ http://en.wikipedia.org/wiki/Hurricane_Rick_(2009)
HURRICANE BILL @ http://en.wikipedia.org/wiki/Hurricane_Bill_(2009)
NORTHEAST PACIFIC - AVN COLOR INFRARED LOOP @ http://www.ssd.noaa.gov/goes/west/nepac/loop-avn.html
'ONE MUST BE AWARE OF THE WISDOM AND STRENGTH THAT IS IN THEM
IF THEIR UNDERSTANDING IS TO BE EXPANDED' - VAUVENARGUES

DOES SEISMIC ACTIVITY REMOTELY FEED CYCLONIC ACTIVITY?
1) 7.1 MAGNITUDE EARTHQUAKE IN JAPAN 9 AUG 2009 -- A powerful 7.1 magnitude earthquake occurred in Japan at 12:56 a.m. Hawaii time - The local time at the epicenter of the earthquake was 7:56 a.m. in Japan -- 2) TYPHOON MORANT IN CHINA 9-13 AUG 2009 @ http://edition.cnn.com/2009/WORLD/weather/08/09/typhoon.china/ -- NOTE: EARTHQUAKE-INSPIRED TSUNAMI'S ARE NOT THE ONLY CONCERN, AS SEISMICALLY-INSPIRED STORM INTENSIFICATIONS MUST BE ADDRESSED AS WELL TO WARN PEOPLE IN HARM'S WAY OF POTENTIAL TYPHOON-RELATED OCCURRENCE (see photos below)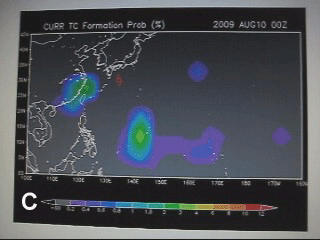 EVIDENCE OF STORM INTENSIFICATION VIA SEISMIC OCCURRENCE? -- photo A / 9 aug 2009 - seismically-inspired energetic upwelling surrounding the hawaiian island chain, and near the islands of japan, including other possibly pre-existing storm systems over pacific basin, and also what will soon intensify into TYPHOON MORANT (japanese scientists recently concluded hurricanes intensify not only from heat, but also through energetic upwelling from the ocean floor; energy which likely attracts to warm equatorial regions through subterranean distribution, originating from various remote sources such as seismic activity and/or underground nuclear testing etc) ; photos B and C / 9-10 aug 2009 - TYPHOON MORANT intensifies w/landfall, and apparent 'arm of energy' from hawaiian upwelling in a sense intensifies pre-existing remote storm system east of the hawaiian island chain; photos D and E / 10-11 aug 2009 - TYPHOON MORANT loses strength as other system intensifies; perhaps remotely intensifying from downgraded typhoon --- NOTE: the hawaiian island chain lies at just around 19.5 N/S latitude; including the largest volcano in our solar system located on mars; and the great red vortex spot on Jupiter @ 19.5 N/S -- and this is due to hyperdimensional physics -- something which among other things explains the physics surrounding falling spinning objects [example: our planet rotating and/or constantly falling around our sun etc] ~ as opposed to newtons' gravitationally-inspired explanation of falling stationary objects > much like spinning a hose in a circle, and/or seismically inspired friction energy 'naturally' migrating to equatorial regions; as the earth rotates, concentrated electromagnetic energy [and/or magma] has a tendency to gather in one spot, and on this planet that spot is the hawaiian island volcanic upwelling @ 19.5 N/S -- SOURCES: http://www.enterprisemission.com/physics.html + http://www.ssd.noaa.gov/PS/TROP/TCFP/west_pacific_loop.html > see also: http://www.halexandria.org/dward118.htm + http://www.enterprisemission.com/weblog/weblog.htm
> TYPHOON MELOR -- LRE RESEARCH UPDATE / 3 OCT 2009 > 1) Magnitude 7.6 - SOUTHERN SUMATRA, INDONESIA / 2009 September 30 10:16:09 UTC @ http://earthquake.usgs.gov/eqcenter/eqinthenews/2009/us2009mebz/ + 2) Magnitude 8.0 - SAMOA ISLANDS REGION / 2009 September 29 17:48:10 UTC @ http://earthquake.usgs.gov/eqcenter/eqinthenews/2009/us2009mdbi/ + 3) Magnitude 6.6 - SOUTHERN SUMATRA, INDONESIA / 2009 October 01 01:52:29 UTC @ http://earthquake.usgs.gov/eqcenter/eqinthenews/2009/us2009mfaf/ = SUPER TYPHOON MELOR -- GO TO: http://wunderground.com/tropical/tracking/wp200920.htm > see also: http://www.wunderground.com/tropical/tracking/wp200920_sat.html#a_topad

DOES UNDERGROUND NUCLEAR TESTING INSPIRE INCREASED SEISMIC ACTIVITY AND/OR REMOTELY FEED CYCLONIC ACTIVITY?
; 1) NORTH KOREAN UNDERGROUND NUCLEAR TEST - 25 MAY 2009 -- The 2009 North Korean nuclear test was the underground detonation of a nuclear device conducted on 25 May 2009 by North Korea - This was its second nuclear test, the first test having taken place in October 2006 - The country also conducted six short-range surface-to-air missile tests - go to: http://en.wikipedia.org/wiki/2009_North_Korean_Nuclear_Test / DEFYING WORLD POWERS NORTH KOREA CONDUCTS NUCLEAR TEST -- Officials in South Korea said they had detected a tremor consistent with those caused by an underground nuclear explosion -- The country's Yonhap news agency reported that the North had test-fired three short-range missiles from a base on the east coast immediately after the nuclear test -- The underground atomic explosion, at 9.54 am local time (0154 BST), created an earthquake measuring magnitude 4.5 in Kilju county in the country's north-east, reports said - read more @ http://news.yahoo.com/s/ap/20090525/ap_on_re_as/as_koreas_nuclear / see also: North Korea tests nuclear weapon 'as powerful as Hiroshima bomb' @ http://www.guardian.co.uk/world/2009/may/25/north-korea-hiroshima-nuclear-test
; 2) BANGLADESH: CYCLONE AILA IN DHAKA - 28 MAY 2009 -- Event Title: Cyclone AILA / Date and Time of onset: 25.05.2009 / Location of the disaster: Bangladesh - 20/36'N - 87/41'E / Event details: 25th May, 2009 devastating Aila struck Khulna, Bagehat, Potuakhali and Sathkhira District -- Two days has already been passed -- Acute shortage of food and drinking water is one of the major problems in that area -- Aila left at least 155 people killed and scores missing -- Thousands of people are marooned in remote areas -- Starving and desolate, peoples in those areas were waiting for government and non-government relief efforts - go to: http://www.reliefweb.int/rw/rwb.nsf/db900SID/MYAI-7SG893?OpenDocument
> 3) OFFSHORE EARTHQUAKE MAGNITUDE 7.1 - 28 MAY 2009 -- Magnitude 7.1 / Date-Time Thursday, May 28, 2009 at 08:24:45 UTC / Thursday, May 28, 2009 at 03:24:45 AM at epicenter / Location 16.729 N, 86.212 W / Depth 10 km (6.2 miles) set by location program / Region OFFSHORE HONDURAS / Distances 125 km (75 miles) NNE of La Ceiba, Honduras / 220 km (135 miles) N of Juticalpa, Honduras / 310 km (195 miles) NNE of TEGUCIGALPA, Honduras / 1185 km (730 miles) SSW of Miami, Florida -- Location Uncertainty horizontal +/- 4.3 km (2.7 miles); depth fixed by location program / Parameters NST=290, Nph=290, Dmin=316.9 km, Rmss=1.15 sec, Gp= 36 deg; / M-type=teleseismic moment magnitude (Mw) Version=8 / Source USGS NEIC (WDCS-D) - go to: http://earthquake.usgs.gov/eqcenter/recenteqsww/Quakes/us2009heak.php
; QUANTUM MECHANICAL CHAIN REACTION: does underground nuclear testing spawn cyclones and/or cause increased seismic activity by causing energy to upwell in equatorial-zoned ocean waters; in a sense 'stirring' the ocean water beneath cyclonic potentiality as energy emanates up from the earth ~ and in turn 'feeding' clouds above? ~ and since cyclones decrease their energy over land when deprived of heat; does water act as a 'electromagnetic conductor' of sorts? CONCLUSION: anecdotal evidence demonstrates underground nuclear testing not only causes increased seismic activity in surrounding regions, but also remote and/or connective weather-related aberrations as well - IT COULD HAPPEN?: could a 10.0 magnitude earthquake spawn a hyper-cylone large enough to flood inland fault zones causing yet another earthquake due to 'heavily-lubricated' fault line slippage; in turn spawning yet another cyclone; etc etc etc?...
RELATED INFORMATION: The Nuclear Test Series -- United States nuclear tests were conducted on an intermittent basis from July 1946 to October 1958. During this period, nuclear tests were conducted in groups known as operations or test series, each series was a distinct operation that was organized and carried out independently of other operations -- On 31 October 1958, just after it concluded the largest test series to date, the United States entered into a unilateral testing moratorium announced by President Eisenhower with the understanding that the former Soviet Union also would refrain from conducting tests. The Soviet Union honored this moratorium initially, but secretly prepared for a massive testing campaign which commenced in September 1961, and included the largest nuclear tests ever conducted -- On September 15, 1961, the United States resumed testing at the Nevada Test Site (NTS) on a year-round basis with Operation Nougat -- From that time to the present, tests have principally been grouped for fiscal and reporting purposes into or according to the fiscal year in which they took place -- For example, fiscal year 1963 tests -- which began 1 July 1962 and extended through 30 June 1963 -- were in the Operation Storax series...
Important exceptions to this scheme were a number of test series conducted during 1962-63: Operation Dominic (which also been called Dominic I), conducted between 25 April and 4 November of 1962 (and thus overlapping Nougat and Storax); and which included the Department of Defense (DoD) Operation Fishbowl high-altitude tests in the Pacific -- Operation Sunbeam (also known as Dominic II), four weapons effects tests conducted by the DoD at the NTS between 7 July and 17 July 1962 (concurrent with Storax) -- Operation Roller Coaster, four zero-yield tests conducted jointly by the US and UK at Nellis Air Force Range (NAFR) between 15 May and 9 June 1963 (concurrent with Storax) -- Atmospheric testing concluded with the test Dominic/Fishbowl Tightrope on 4 November 1962 -- The signing of the Atmospheric Test Ban Treaty on 5 August 1963 in Moscow halted all further atmospheric testing by both superpowers -- The Fiscal Year based underground series was perturbed in 1976, when the federal government changed the fiscal year to begin on October 1 and end on September 30 -- Accordingly, the Fiscal Year 1976 series, Operation Anvil, did not end on June 30, but was extended through September 30, 1976 -- a period of 15 months...
On March 31, 1976, the Soviet Union and the United States agreed to limit the maximum yield of underground tests to 150 kt -- On October 2, 1992, the United States entered into another unilateral moratorium on nuclear weapons testing announced by President Bush. President Clinton extended this moratorium in July 1993, and again in March 1994 until September 1995. With the signing of the Comprehensive Test Ban Treaty in September 1996, the United States -- along with the other nuclear powers -- made a legal commitment never to test nuclear devices again, even though this treaty will likely never go into force due to the opposition of India -- source: http://nuclearweaponarchive.org/Usa/Tests/index.html
> SEE ALSO: 1) GEOLOGIC SURFACE EFFECTS OF UNDERGROUND NUCLEAR TESTING @ YUCCA FLAT NEVADA TEST SITE @ http://www.energystorm.us/Geologic_Surface_Effects_Of_Underground_Nuclear_Testing_Yucca_Flat_Nevada_Test_Site_Nevada-r612.html -- 2) NUCLEAR WEAPON UNDERGROUND TESTING @ http://www.globalsecurity.org/wmd/intro/ugt.htm -- 3) ENVIRONMENTAL EFFECTS OF FRENCH NUCLEAR TESTING @ http://cyberplace.org.nz/peace/nukenviro.html -- 4) EVALUATING THE EFFECTS OF UNDERGROUND NUCLEAR TESTING BELOW THE WATER TABLE ON GROUNDWATER AND RADIONUCLIDE MIGRATION IN THE TUFF PILE 1 REGION OF YUCCA FLAT: NUMERICAL SIMULATION @ http://www.ees1.lanl.gov/Wohletz/Tuff%20Pile.pdf -- 5) THE HEALTH COSTS OF NUCLEAR TECHNOLOGY @ http://www.ratical.org/radiation/inetSeries/

DOES LFAS SONAR REMOTELY INSPIRE INCREASED SEISMIC ACTIVITY
AND/OR FEED CYCLONIC ACTIVITY?
> NEWS FLASH / 5 feb 2010: DID LFAS SONAR CAUSE THE JANUARY 2010 QUAKE IN HAITI? A) 12 JAN 2010 / 7.0 quake hits Haiti; 'Serious loss of life' expected > go to: http://www.cnn.com/2010/WORLD/americas/01/12/haiti.earthquake/index.html > B) 19 JAN 2010 Obama Administration to Revisit Bush-Era Sonar Policies > go to: http://www.nrdc.org/media/2010/100119.asp
> COBRA GOLD MULTINATIONAL MILITARY EXERCISE KICKS OFF IN NORTH THAILAND > 4-13 FEB 2009 @
http://news.xinhuanet.com/english/2009-02/04/content_10762757.htm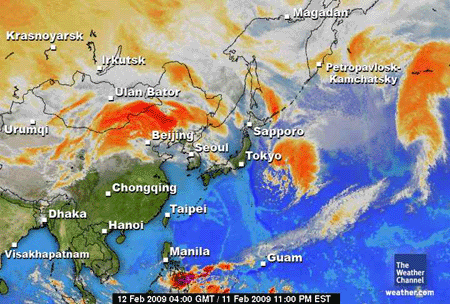 WEATHER.COM ~ EAST ASIA SATELLITE
AN EARTHQUAKE OCCURRED 11 FEB 2009 WITH THESE PRELIMINARY PARAMETERS:
ORIGIN TIME - 0735 AM HST 11 FEB 2009
COORDINATES - 3.8 NORTH 126.8 EAST
LOCATION - TALAUD ISLANDS INDONESIA
MAGNITUDE - 7.4 MOMENT
> EVALUATION -- BASED ON ALL AVAILABLE DATA - A DESTRUCTIVE PACIFIC-WIDE TSUNAMI IS NOT EXPECTED AND THERE IS NO TSUNAMI THREAT TO HAWAII. REPEAT. A DESTRUCTIVE PACIFIC-WIDE TSUNAMI IS NOT EXPECTED AND THERE IS NO TSUNAMI THREAT TO HAWAII > TSUNAMI INFORMATION STATEMENT NUMBER 1 ~ / NWS PACIFIC TSUNAMI WARNING CENTER EWA BEACH HI / 747 AM HST > WED 11 FEB 2009 / TO - CIVIL DEFENSE IN THE STATE OF HAWAII / SUBJECT - TSUNAMI INFORMATION / THIS STATEMENT IS FOR INFORMATION ONLY -- NO ACTION REQUIRED / TSUNAMI BULLETIN NUMBER 001 -- PACIFIC TSUNAMI WARNING CENTER TEXT ~ NOAA/NWS -- ISSUED AT 1746Z > 11 FEB 2009 @ http://www.prh.noaa.gov/ptwc/messages/pacific/2009/pacific.2009.02.11.174545.txt + PACIFIC TSUNAMI WARNING CENTER @ http://www.prh.noaa.gov/ptwc/?region=1&id=pacific.2009.02.11.174545 > see also: PACIFIC TSUNAMI WARNING CENTER HOME @ http://www.prh.noaa.gov/ptwc/
THE 'REACTIVATION OF CHAITEN' > 19 FEB 2009 @ http://volcanism.wordpress.com/2009/02/19/reactivation-at-chaiten/
CHAITEN - MAJOR DOME COLLAPSE > 19 FEB 2009 @ http://volcanism.wordpress.com/2009/02/19/chaiten-major-dome-collapse/
SI/USGS WEEKLY VOLCANIC ACTIVITY > 11 - 17 FEB 2009 @ http://volcanism.wordpress.com/2009/02/19/siusgs-weekly-volcanic-activity-report-11-february-2009-17-february-2009/ + THE VOLCANISM BLOG @ http://volcanism.wordpress.com/
QUESTION: does the ring of fire serve as an energy conduit remotely effecting pyroclastic flow?
TROPICAL CYCLONE FREDDY > 6 -10 FEB 2009 ~ Aust / SIO -- FEBRUARY 2009 NORTH AMERICAN TORNADO OUTBREAK 10 FEB 2009 @ http://en.wikipedia.org/wiki/February_2009_tornado_outbreak -- 200+ BEACHED MELON-HEADED WHALES RESCUED IN THE PHILIPPINES10 FEB 2009 @ http://latimesblogs.latimes.com/unleashed/2009/02/more-than-200-b.html + THE LARGEST STORM OF THE SEASON STRETCHED FROM OREGON TO THE MEXICAN BORDER > 17 FEB 2009 @ http://www.latimes.com/news/local/la-me-rain-storm17-2009feb17,0,6183404.story --- RELATED LINKS: STOP LFAS SONAR @ http://cetacean-nation.com/LFAS.html -- TROPICAL CYCLONE INTENSITY CHANGE THEORY II (PARALLEL WITH SESSIONS 2B AND 2C) @ http://ams.confex.com/ams/last2000/techprogram/session_10973.htm -- PRE-STORM LINK TO CYCLONIC INTENSIFICATION @ http://www.erh.noaa.gov/ilm/science/ascii/blm/blmpslink.html -- INFLUENCES OF POTENTIAL VORTICITY ASYMMETRIES ON A TROPICAL CYCLONE IN A MOIST THREE-LAYER MODEL @ http://ams.confex.com/ams/last2000/techprogram/paper_12310.htm -- WEATHER MODIFICATION @ http://www.enterprisemission.com/weblog/weblog.htm -- TROPICAL CYCLONES @ http://australiasevereweather.com/cyclones/ -- MISINFORMATION.NET @ http://www.misinformation.net/ -- QUANTUM MECHANICS @ http://en.wikipedia.org/wiki/Quantum_mechanics
QUANTUM MECHANICAL CHAIN REACTION: low frequency undersea LFAS sonar waves cause increased seismic activity; causing ensuing friction energy to upwell in equatorial-zoned ocean waters; in a sense 'stirring' the ocean water beneath cyclones, and in turn 'feeding' clouds above? does water act as a conductor of sorts? -- CONCLUSION: anecdotal evidence demonstrates low frequency LFAS sonar appears to not only cause increased seismic activity in surrounding regions, but also remote and/or connective weather-related aberrations as well - installation of new electromagnetic-based sub-hunting systems will eliminate 'artificially inspired' seismic disturbance; while limiting harm to wildlife and allowing thorough reconnaissance to occur...
READ MORE @ http://likroper.com/LRE RESEARCH2.html
& http://likroper.com/LRE RESEARCH4.html
CAN QUANTUM PHYSICS HELP EXPLAIN EERIE COINCIDENCES? -- Synchronicity is no more baffling or mysterious than the discontinuities of physics ~ It is only the ingrained belief in the sovereign power of causality that creates intellectual difficulties and makes it appear unthinkable that causeless events exist or could ever exist. -- C.G. Jung ~ Synchronicity - READ SCIENCE AND SYNCHRONICITY @ http://www.gtweekly.com/20090401398064/good-times/covers/science-synchronicity

LRE RESEARCH THEORETICAL BASE: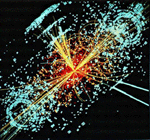 BEYOND THE STANDARD MODEL: The fundamental particles and forces in nature are described by the theory known as the Standard Model (SM), a very successful quantum field theory whose predictions have been thoroughly tested experimentally. However, there are both theoretical and experimental reasons to believe it is the low-energy approximation of some yet unknown more fundamental theory -- click on photo above -- or go to: http://www.isv.uu.se/thep/research.html
PARTICLE ASTROPHYSICS -- The application of elementary particle physics to astrophysical systems is a growing and very interesting research field. The group already made contributions to this field in the 1990s through the first PhD thesis in astroparticle physics at Uppsala University. We have also recently proposed new experimental ways to detect high-energy cosmic neutrinos through interactions in the moon, and we have studied production of such neutrinos in supernovae and gamma ray bursts as well as atmospheric neutrinos produced by cosmic rays hitting Earth's atmosphere -- Astroparticle physics has ties both to QCD and physics beyond the Standard Model. For example, the cross section for atmospheric neutrino production is sensitive to small-x QCD effects. Another example is that annihilation of dark matter in the Sun or in the galaxy can give rise to fluxes of neutrinos, positrons, or other particles, which may be detected by satellite experiments or large neutrino telescopes such as IceCube -- The present scarcity of observational data leave much room for speculations and crude approximations. With more data coming in the near future, models will be much more constrained and more detailed phenomenological studies be required. Monte Carlo simulations techniques will then become important and we could make significant contributions > Conclusion: Finally, one should emphasize the possibility to start new projects depending on new theoretical ideas or experimental results that may come up. As a theorist one is not constrained to long-term commitments on specific research projects, like experimental particle physicists, so there is a freedom to follow the development of the field and enter new areas > go to: http://www.isv.uu.se/thep/research.html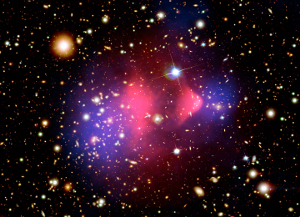 MEASURING HOW THE UNIVERSE BEGAN - The universe is filled with a thermal glow called the cosmic microwave background that comes from the hot plasma which filled it early on. Measurements of this background made by the NASA satellite WMAP have determined the age, geometry and composition of the universe with new precision, determining that the universe today is dominated by a dark energy that is causing it to expand ever more rapidly. The mission has also determined that baryonic matter--the atoms and molecules we see around us--only form a few percent of the total energy density of the universe today, and has determined the epoch at which the first stars formed. Recent results give a tantalizing picture of the first very small fraction of a second in the "big bang". Six years after its launch WMAP remains healthy and the data continue to pour in. This talk will explain to a general audience what this experiment tells us about how the universe began and what it is made out of -- PROFESSOR MARK HALPERN / source: http://www.phas.ubc.ca/ais/
1) Laws of physics which apply to the microcosmic should logically apply to the macrocosmic as well; as in limitless space, one tenth of an inch is not that much different from 100,000 light years, for instance; my own 'DIMENSIONAL CONSTANTS' theory suggests the same [theoretical] laws of physics [quantum mechanics etc] apply regardless of distance or size -- In other words; while humans are indeed giants to ants, if you look up into the sky at night; 100 million light years looks quite the same as 100 yards if you stand back far enough, so a particle which appears in two places at the same time at the atomic level [as heisenberg uncertainly suggested] could also be in two places 100 million light years apart, for instance. This could explain how the tsunami which occurred on 26 december 2004 in a sense 'triggered' one of the largest gamma ray bursts in recorded history the very next day on 27 december 2004; and/or how seismic energy could 'inspire' a remote storm system > It is simply remote elementary particles; exchanging characteristics -- LIK ROPER / 2009
2) The maddening part of that problem is that the ability of particles to exist in two places at once is not a mere theoretical abstraction. It is a very real aspect of how the subatomic world works, and it has been experimentally confirmed many times over. One of the clearest demonstrations comes from a classic physics setup called the double-slit experiment -- In physics, wave-particle duality holds that light and matter can exhibit properties of both waves and of particles. It is a central concept of quantum physics. Through the work of Albert Einstein, Louis de Broglie and many others, it is now established that small objects, such as atoms, have both wave and particle nature, and that quantum mechanics provides the over-arching theory resolving this apparent paradox -- A dramatic series of experiments emphasizing the action of gravity in relation to wave-particle duality were conducted in the 1970's using the neutron interferometer. Neutrons, the stuff of atomic nuclei, provide much of the weight of a nucleus and thus of ordinary matter. Neutrons are fermions, and thus, in a certain sense, are quintessentially "particles". Yet, in the neutron interferometer, they act not only as quantum-mechanical waves, but the experiments show that these waves are very directly subject to the forces of gravity. While not a surprise, as gravity was known to deflect light and even act on photons (the Pound-Rebka falling photon experiment), gravity had never before been seen to act directly on the quantum mechanical wave of fermions, the stuff of ordinary matter -- EXPERIENCEFESTIVAL.COM @ http://www.experiencefestival.com
3) About 80 years ago, scientists discovered that it is possible to be in two locations at the same time at least for an atom or a subatomic particle, such as an electron. For such tiny objects, the world is governed by a madhouse set of physical laws known as quantum mechanics. At that size range, every bit of matter and energy exists in a state of blurry flux, allowing it to occupy not just two locations but an infinite number of them simultaneously. The world we see follows a totally different set of rules, of course: There's just one Oxford University, just one car, just one Penrose. What nobody can explain is why the universe seems split into these two separate and irreconcilable realities. If everything in the universe is made of quantum things, why don't we see quantum effects in everyday life? Why can't Penrose, made of quantum particles, materialize here, there, and everywhere he chooses?
Many physicists find this issue so vexing that they ignore it entirely. Instead, they focus on what does work about their theories. The equations of quantum mechanics do a fantastic job describing the behavior of particles in an atom smasher, the nuclear reactions that make the sun shine, and the chemical processes that underlie biology. For Penrose, that is not nearly enough. Quantum mechanics gives us wonderful predictions and experimental confirmations for small-scale scenarios, but it gives us nonsense at ordinary scales, he says, relaxed now that a receptionist has assured him of his car's safety. If you just follow the equations, you get a mess. So you have to ask: What leads to this world?
Penrose's faith began to waver while he was a graduate student at Cambridge. The crucial moment came during a lecture by Paul Dirac, one of the legendary early thinkers in quantum mechanics. He was talking about the superposition principle, whereby objects could be in two places at the same time. To illustrate, he broke a piece of chalk in two and then tried to explain why you never saw superpositions in real life. My mind may have wandered briefly, because I never heard his explanation! Penrose says, laughing. But when I think about it, I'm not sure it did wander, because it's not possible to explain why you don't see objects in two places at once on the basis of present-day quantum mechanics. It's a big problem. It's what I've worried about ever since.'
The maddening part of that problem is that the ability of particles to exist in two places at once is not a mere theoretical abstraction. It is a very real aspect of how the subatomic world works, and it has been experimentally confirmed many times over. One of the clearest demonstrations comes from a classic physics setup called the double-slit experiment -- DISCOVER MAGAZINE @ http://discovermagazine.com/2005/jun/cover > see also: http://en.wikipedia.org/wiki/Double-slit_experiment
4) In quantum physics, the Heisenberg uncertainty principle states that certain pairs of physical properties, like position and momentum, cannot both be known to arbitrary precision. That is, the more precisely one property is known, the less precisely the other can be known. It is impossible to measure simultaneously both position and velocity of a microscopic particle with any degree of accuracy or certainty. This is not only a statement about the limitations of a researcher's ability to measure particular quantities of a system, following the tenets of logical positivism, it is a statement about the nature of the system itself -- In quantum mechanics, a particle is described by a wave. The position is where the wave is concentrated and the momentum is determined by the wavelength. The position is uncertain to the degree that the wave is spread out, and the momentum is uncertain to the degree that the wavelength is ill-defined...
The only kind of wave with a definite position is concentrated at one point, and such a wave has an indefinite wavelength. Conversely, the only kind of wave with a definite wavelength is an infinite regular periodic oscillation over all space, which has no definite position. So in quantum mechanics, there are no states that describe a particle with both a definite position and a definite momentum. The more precise the position, the less precise the momentum -- The uncertainty principle can be restated in terms of measurements, which involves collapse of the wavefunction. When the position is measured, the wavefunction collapses to a narrow bump near the measured value, and the momentum wavefunction becomes spread out. The particle's momentum is left uncertain by an amount inversely proportional to the accuracy of the position measurement. The amount of left-over uncertainty can never be reduced below the limit set by the uncertainty principle, no matter what the measurement process...This means that the uncertainty principle is related to the observer effect, with which it is often conflated. The uncertainty principle sets a lower limit to how small the momentum disturbance in an accurate position experiment can be, and vice versa for momentum experiments...
Sometimes, two particles can be entangled, and then a distant measurement can be performed on one of the two. This measurement should not disturb the other particle in any classical sense, but it can sometimes reveal information about the distant particle. This restricts the possible values of position or momentum in strange ways -- Unlike the other examples, a distant measurement will never cause the overall distribution of either position or momentum to change. The distribution only changes if the results of the distant measurement are known. A secret distant measurement has no effect whatsoever on a particle's position or momentum distribution. But the distant measurement of momentum for instance will still reveal new information, which causes the total wavefunction to collapse. This will restrict the distribution of position and momentum, once that classical information has been revealed and transmitted -- EXCERPTS FROM WIKIPEDIA.ORG @ http://en.wikipedia.org/wiki/Uncertainty_principle
5) a) We must know the truth to act wisely, and truth comes from physical reality -- b) Our present and past societies are not founded on truth and act unwisely (overpopulation, destruction of nature, pollution, climate change, religious and economic wars, etc.) -- c) We now know the correct language for describing physical reality (all matter interactions are wave interactions in space), and this knowledge is critical for our future survival, being the source of truth & wisdom - Quantum theoretical laws must be of a statistical kind; This state of affairs is best described by saying that all particles are basically nothing but different stationary states of one and the same stuff -- WERNER HEISENBERG / 1930
6) According to its authors, the EPR experiment yields a dichotomy - Either; 1) The result of a measurement performed on one part A of a quantum system has a non-local effect on the physical reality of another distant part B, in the sense that quantum mechanics can predict outcomes of some measurements carried out at B; or 2) Quantum mechanics is incomplete in the sense that some element of physical reality corresponding to B cannot be accounted for by quantum mechanics (that is, some extra variable is needed to account for it) -- EPR PARADOX @ http://en.wikipedia.org/wiki/EPR_paradox
7) "When forced to summarize the general theory of relativity in one sentence: Time and space and gravitation have no separate existence from matter; Physical objects are not in space, but these objects are spatially extended; In this way the concept 'empty space' loses its meaning - Since the theory of general relativity implies the representation of physical reality by a continuous field, the concept of particles or material points cannot play a fundamental part, and can only appear as a limited region in space where the field strength / energy density are particularly high..." -- ALBERT EINSTEIN / 1950
QUANTUM ENTANGLEMENT = remote elementary particles ~ exchanging characteristics
> QUESTIONS: is the remaining cap of stone around the very top of the highest giza plateau pyramid actually a high water mark showing signs of massive erosion from torrents of water, perhaps from an ancient pole shift and/or tsunami? -- why would ancient looters leave only the top few bricks on the pyramid? > we all know old egypt is buried under roughly 20 feet of sand near the sphinx in giza, and we also know the giza plateau complex is thought to be anywhere from 9,000 to 100,000 years old, so perhaps > GO TO: http://likroper.com/GIZA.html
IS THIS ATLANTIS?
> http://www.thesun.co.uk/sol/homepage/news/article2255989.ece <
see also: LOST WORLDS @ http://likroper.com/LOSTWORLDS.html
UNDERWATER CITIES @ http://likroper.com/underwater.html
MARIE THARP @ http://likroper.com/marie_tharp.html
ICE AGES @ http://likroper.com/LRE RESEARCH3.html
PERHAPS @ http://likroper.com/LRERESEARCH4.html
ONE GOD @ http://likroper.com/LRE_RESEARCH6.html
THE MOON @ http://likroper.com/LRE_RESEARCH5.html
UFOS @ http://likroper.com/UFO2.html
SEE ALSO: LASER-PROPELLED SPACECRAFT COULD TRANSFORM TRANSPORTATION @ http://www.space.com/entertainment/090904-laser-ships.html + VORTEX-BASED MATHEMATICS @ http://rodin.freelancepartnership.com/content/view/7/26/ + RODIN COIL EFFECTS 5.1 - NEOSPHERE LEVITATION @ http://www.youtube.com/watch?v=Sahi7zDf8Mw&feature=autofb + PROJECT CAMELOT INTERVIEWS DOCTOR STEVEN GREER @ http://www.youtube.com/watch?v=hzqDVOjtNhg + MARTIN JETPACK @ http://www.martinjetpack.com/ + JET PACK INTERNATIONAL @ http://www.jetpackinternational.com/

NORTH POLE INFRARED SATELLITE IMAGE / 3 OCT 2009