WELCOME TO SUPERBIRDLAND!
PROTECTING AND DEFENDING THE HOMELAND - updated 8 oct 2012
SUPERBIRDLAND! INDEX: TERMINATE THE EMPLOYMENT OF PETERSON MIDDLE SCHOOL PRINCIPAL SUSAN E. HARRIS @ http://www.thepetitionsite.com/786/262/597/immediately-terminate-the-employment-of-peterson-middle-school-principal-susan-e-harris/ + THERE'S A NEW SHERIFF IN TOWN? + SANTA CLARA COPWATCH @ http://likroper.com/COPWATCH-01.doc + SELLING RAYNOR? + RECOMMENDATIONS FOR CUPERTINO MAIN STREET PROJECT @ http://likroper.com/MAINSTREET2.html + THE SANTA CLARA UNIFIED KILL DISTRICT? X X + EPA PROPOSES STRONGER PROTECTIONS FOR PEOPLE IN PESTICIDE EXPERIMENTS + OCCUPY SUNNYVALE! | SEE ALSO: YOUTUBE.COM/LREVIDEOGRAPHY + SUNNYVALE CITY COUNCIL ONLINE + PETERSONHIGH.COM @ http://www.petersonhigh.com/ + SEE ALSO: THE OASIS NIGHTCLUB = HISTORIC STRUCTURE | SUPERBIRDLAND! ARCHIVE: [1 2 3 4 5 6 7 8 9 10 11]
TERMINATE THE EMPLOYMENT OF PETERSON MIDDLE SCHOOL PRINCIPAL SUSAN E. HARRIS
http://www.thepetitionsite.com/786/262/597/immediately-terminate-the-employment-of-peterson-middle-school-principal-susan-e-harris/

30 sep 2012 -- I have brought the dangerous traffic situation in this neighborhood to the attention of both the City of Sunnyvale and Santa Clara for a few months now with no action taken to correct it (missing state-law crosswalk signs; crosswalk needed at the end of Dunford way etc) and just the other day right after I helped a kid cross the street to get to school safely; an irate and hysterical Principal Harris drove up and jumped out of her vehicle and practically accosted me for helping the kid cross (note: the last Principal was a cool black guy who somehow knew me by my first name; so what happened?) This kind of paranoid, irrational soccer mom-ish behavior has no place in this neighborhood -- Not only is Principal Harris an animal abuser who poisoned wildlife in the Peterson field (THE SANTA CLARA UNIFIED KILL DISTRICT? X X); but she also helped the FULL CIRCLE FARM have a hard time getting their organic certification -- And now she is retaliating against me for bringing this to the publics' attention (below are excerpts from a secret word file that has been brought to the attention of the Sunnyvale city council; the Sunnyvale city attorney; the Sunnyvale police department; the Sunnyvale city manager; Kamala Harris; Jeff Rosen etc)...
6a) MISSING STATE LAW CROSSWALK SIGN > 4 aug 2012 > If you look at the photo above; a state-law crosswalk sign can be seen -- This is an important crosswalk to protect because it leads directly to an entrance of a school where students sometimes have a hard time crossing safely -- But this crosswalk sign was recently run over and removed back in June 2012 and has not been replaced; even though John has brought it to the attention of a City of Sunnyvale street maintenance crew -- Below is a photo showing the missing sign; above is a photo showing said sign >
THIS STATE LAW CROSSWALK SIGN IS MISSING (SEE: X); THEREFORE CREATING A DANGEROUS ENVIRONMENT FOR CHILDREN GOING TO AND FROM SCHOOL AT THIS INTERSECTION -- YET ANOTHER EXAMPLE OF NEGLIGENCE ON THE PART OF THE CITY OF SUNNYVALE…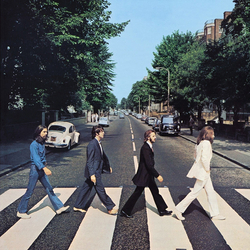 6b) LIFE OR COMMERCE? > The crosswalk seen on the front cover of the Beatles album "Abbey Road" was the result of a national debate in the UK regarding pedestrian safety -- What is more important? Life or commerce? I think we ALL know the answer to that one…

 THERE'S A NEW SHERIFF IN TOWN? -- Lik Roper has had it up to here with the bullshit going down in his part of town; so he thinks the best solution is to become Sunnyvale's very first rock n roll sheriff -- Contact the Sunnyvale city council and tell them to DEPUTIZE LIK ROPER! @ http://ecityhall.sunnyvale.ca.gov/contact/contact.aspx


CHECK OUT: SANTA CLARA COPWATCH @ http://likroper.com/COPWATCH-01.doc
> feel free to copy and distribute this document...
SELLING RAYNOR? + RECOMENDATIONS FOR THE PROPOSED CUPERTINO MAIN STREET PROJECT @ http://likroper.com/MAINSTREET2.html
SOLAR PANEL INSTALLATION @ THE PETERSON FIELD | 30 sep 2012 -- After the SCUSD public relations nightmare of poisoning the California Ground Squirrels in the Peterson field (therefore making it difficult for the FULL CIRCLE FARM which is located in the field to receive their organic certification) The SCUSD is now going green to perhaps change public perception -- Note: about one week after I brought a secret file to the attention of the Santa Clara County assessors' office; the City of Santa Clara was denied $30 million dollars for the new 49ers stadium; and instead re-routed to LOCAL SCHOOLS...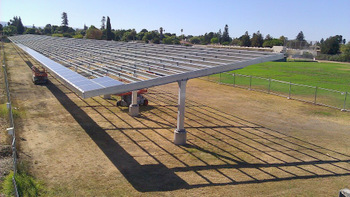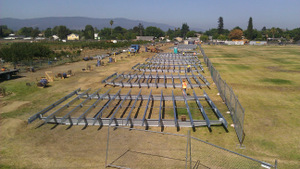 DE ANZA COLLEGE IN CUPERTINO has installed solar panels in the parking lot; this not only gathers solar energy -- but it also protects the finish on vehicles which would otherwise be baking in the hot sun...
SOLAR PANEL IN THE HOMESTEAD HIGH SCHOOL PARKING LOT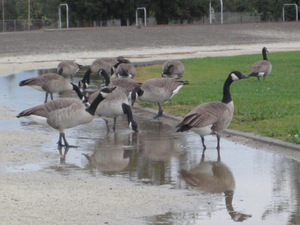 CANADIAN GEESE @ THE PETERSON FIELD

OCCUPY SUNNYVALE!
http://www.facebook.com/pages/Occupy-Sunnyvale/158329944263338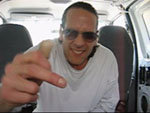 LIK ROPER | ROLE MODEL
"the rising middle fingers
of true deepened democracy
answer to NO ONE"...